Monday, November 1, 2010
Posted by Ed Hansberry in "Windows Phone News" @ 01:30 PM
"Microsoft has been cramming tons of useful new features into Hotmail this year, and the venerable webmail app is looking better than ever. Today, Microsoft has announced the arrival of another new feature -- one that is squarely aimed at encouraging new users to give Hotmail a try."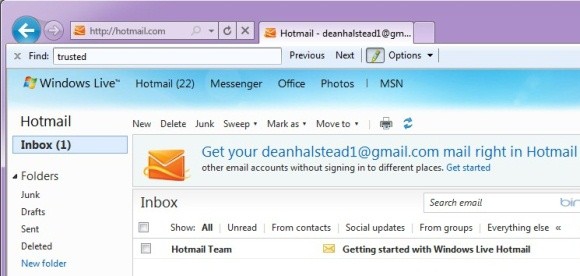 As the article points out though, people are reluctant to switch because they like their existing email address. Now, if you like the Hotmail user interface and features, you can use your existing email address with it as long as your current email can be accessed via POP3. Hotmail will just pull those messages into your account and you can "send as" so the recipient sees only your preferred email address.
I've been doing this for a few years, but with the GMail interface. The problem with this (at least with GMail) is that you cannot see on your mobile device which emails are native and which are being pulled in from outside accounts, and all replies go out as if they were from your GMail account. I am not sure if Hotmail has addressed this or not, but I'd actually be surprised if they have. Anyone here tried this yet with Hotmail?
---