Wednesday, January 14, 2009
Posted by Don Tolson in "Pocket PC Hardware" @ 09:00 AM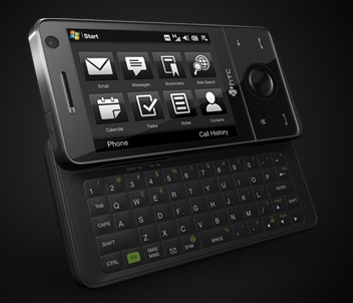 Product Category: PDA Phone w/keyboard
Manufacturer: HTC
Where to Buy: Expansys [Affiliate]
Price: $649.99 USD
System Requirements: Windows Mobile 6.1, with HTC's TouchFlo 3D interface
Specifications: Qualcomm MSM7201A CPU at 528 MHz, Windows Mobile 6.1 Professional. 512 MB of storage ROM and 288 MB of system RAM. It is 102mm tall, 51mm wide, and 18.05mm thick and weighs 165 grams with its 1340 mAh battery. It has a 2.8 inch VGA screen, GPS, Bluetooth 2.0, 802.11 b/g, and a slide-out QWERTY keyboard. Quad-band GSM phone (850/900/1800/1900 MHz), 3G capable for HSPD/WCDMA for up to 2 mbps upstream and 7.2 mbps downstream. The main camera is a 3.2 megapixel camera with auto-focus and flash, with a secondary front-facing VGA camera for video calling (may not be available on NA models). It also has a microSDHC card slot.
Pros:
Screen is amazing -- clear, bright, beautiful;
HTC's TouchFlo 3D interface very well thought out and executed;
Good package of accessories and added software.
Cons:
Battery life isn't stellar -- not bad for a VGA though;
Version reviewed is from Europe, so it wouldn't work on North American 3G networks (be careful what you buy!);
Front screen is a magnet for fingerprints and streaks, but easily cleaned.
Summary: Truth in reviewing -- I lusted after this phone when I first starting hearing about it as the successor to the Kaiser/Tilt. Then, when I starting seeing some of the technical reviews and comments in XDA-Developer forums, my desire just got worse. I practically fell off my chair when Jason said he had one 'hanging around the office' and would I like to review it? "Uh, sure", I said nonchalantly, but I couldn't wait for it to arrive and to put it through its paces as my primary work phone/PDA for a week. So, did it live up to my expectations? Find out after the break.... Read more...
---