Monday, July 19, 2010
Posted by Brad Wasson in "Windows Phone Talk" @ 05:30 AM
"What we've been presented with here doesn't exactly feel like a complete mobile operating system in many ways. Some parts of Windows Phone 7 are more like a wireframe -- an interesting design study, an example of what a next-gen phone platform could be. That's both good and bad. On one side, we're still really excited by the prospect of Metro as a viable, clean-slate approach to the mobile user experience, and there are lots of smart moves being made that could lead to greatness. On the other side, Microsoft has to turn this into a viable retail product that can hang with the fiercest competition in the history of the cellphone in just a few months' time, and there are some serious issues that need to be addressed. Frankly, it's a little scary."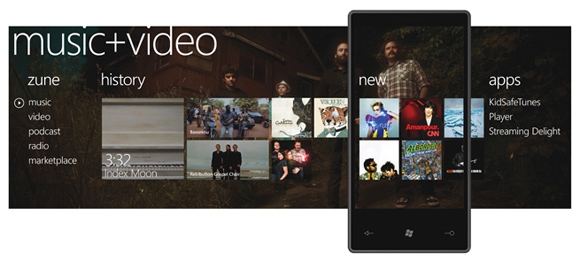 The last few days have seen a plethora of blogs and tech sites describing their impressions and experiences with recently distributed Windows Phone 7 prototype devices from Microsoft. Engadget received a not-for-retail Samsung model called the "Taylor" for their test, and there's no question they gave it a very thorough review. For the most part I found their review stuck to facts, figures, and even-handed commentary, and overall was pretty objective. They have pointed out some of the truly unique aspects of the phone (the Metro user interface and the manner in which social media has been integrated, for example), and have pointed out weaknesses and missteps (for example, search is not universal, while Office integration is pretty seamless, but weak on document editing features). They have also indicated where holes exist due to the beta nature of the device's software (in the XBOX integration, for example).
How the strengths of weaknesses of this new platform will tip your interest in actually purchasing one of the released versions of the phones will depend on your personal use scenario. Therein lays a huge challenge for Microsoft: finding the right balance between breadth of offering (and having to go shallow on some features) and focusing on specific markets (at the expense of not appealing to particular segments of the ever-expanding smartphone market). In my opinion they are casting the net as wide as possible with this first release. Although Microsoft claims this first version of Windows Phone 7 is focused on consumers, they have definitely not ignored the business customer as evidenced by the Office hub that is included.
Engadget seems to have concluded that Microsoft may not have achieved the balance they need to be successful out of the gate. They may be right, but I wouldn't count Microsoft out yet. In the past Microsoft, with its deep pockets, and market staying power, has been good at weathering the storm while the market for their product firms up and they expand the capability and features of their product. Have they lost too much ground to make up this time? Have they lost the consumers interest in this market? Have they made a compelling enough product? Will they be able to do it this time? Only time will tell.
---